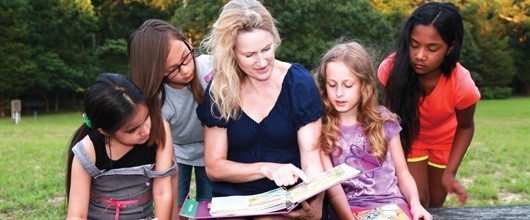 Training
We are so pleased you are choosing to make a difference in our future leaders. We are working hard to make training easier for all our volunteers. This page is your one-stop shop for all your Volunteer Training needs.
Opportunities with Learning (OWL)
Because we want you to have the best experience possible as a Girl Scout volunteers, we have lots of learning opportunities for you. But before you take a look at the course offerings, please make sure to review our training policies and procedures!
Troop Volunteer Training
Troops are required to have two approved, unrelated, trained leaders. As a leader you are required to take  the online class Troop Volunteers, Part 1: The Adventure Begins. After 2-4 meetings, you must attend the follow-up face-to-face class, Troop Volunteers Part 2: The Adventure Continues.
Troop Volunteers, Part 1: The Adventure Begins!
When you and at least one other unrelated, registered, and approved adult complete this course, you will be able to start meeting with your troop! In this online, introductory training, you will learn the basics of being a Girl Scout Troop Leader.
Take Troop Volunteers, Part 1 now


Troop Volunteers, Part 2: The Adventure Continues!
After you've met with your troop about 2 to 4 times, you will have questions and context for information to really stick! That's when you will attend this face-to-face interactive training, designed for new and experienced troop volunteers, alike. Bring your questions, experiences, and co-leaders to get answers and ideas, to review best practices, and to bolster your knowledge, skills, and understanding of working with a Girl Scout Troop in Maine. You must take Troop Volunteers, Part 1 BEFORE signing up for Part 2!
Find a Troop Volunteers, Part 2 training near you

Keep going! 
Here are some great trainings you can use to continue your development – both personally and with Girl Scouts!