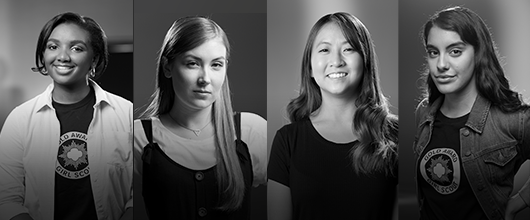 Gold Award
The Girl Scout Gold Award is the highest award a Girl Scout can earn. Once achieved, it shows colleges, employers, and your community that you're out there changing the world.
Join a century of women who have done big things. Learn about scholarships for Gold Award Girl Scouts, the history of the Gold Award, and the benefits of going Gold. 

You can pursue your Girl Scout Gold Award if:
 
You're in high school (ninth through twelfth grade, or equivalent) 
 

You're registered as a Girl Scout Senior or Girl Scout Ambassador
 

You have completed two Senior or Ambassador Journeys OR earned the Girl Scout Silver Award and completed a Journey
 
Girl Scout Gold Award Steps


Investigate your issue thoroughly
 

Get help and build your team
 


Present your plan and gather feedback 
 


---
Going for the Gold with GSME
This course is an introduction to the Gold Award process and is required for all Senior and Ambassador Girl Scouts who intend on becoming Gold Award candidates. It is recommended that girls take this course even if they are unsure as to whether of not they will work toward their Gold Award. Cost: Free
To see a list of current Going for the Gold Trainings
and to register, click here.
Leaders/advisors are welcome to attend Going for the Gold trainings, and must up-to-date on their volunteer application and registered membership. Contact GSME's Teen and Large Events Program Specialist, Elizabeth Helton, to schedule additional Gold Award courses for your troop. There is a minimum of 5 girl participants for Gold Training.
---
Important notes!
All proposals must be completed using the Go Gold online system. 
Gold Award Project Proposals and Final Reports are reviewed by the Gold Award Review Committee on a rolling basis. If you have not heard from a committee member within two weeks after submitting your paperwork via Go Gold, please contact Elizabeth Helton.
Make sure download and use these documents if you are working on your Gold Award:
---
Planning ahead?

If you are a twelfth grader who is planning on earning your Gold Award, please submit your project proposal by March 1 to allow time for review and completion of your project.

For recognition of your Gold Award at the Annual Statewide Awards Ceremony in April, please submit your final paperwork by February 1 of that year. Those submitting paperwork after that date will be honored at the ceremony the following year.