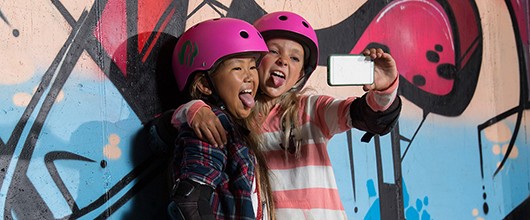 Already a member? Log in to renew.
When you unleash your inner G.I.R.L., you can accomplish anything!
At Girl Scouts, the next opportunity to stand up, speak up, and take the lead is never far away. With us, you'll discover the G.I.R.L. (Go-getter, Innovator, Risk-Taker, Leader)™ in you, and watch her shine, again and again.
Will you find a sustainable solution to a problem in your community? Will you explore the great outdoors? Build a robot? Learn to code? Conduct an experiment?
With us, the possibilities are truly endless. Discover all you can be and everything you can accomplish when you have the right tools and a safe space to shine—and work together to change the world. 
So what are you waiting for?
 
Already a member? Log in to renew.
Registration has never been easier!
Click "Join Girl Scouts" button to register your girl, and provide us with your basic information. Then you'll be taken to the Opportunity Catalog, where you can choose how she would like to participate in Girl Scouts. (If you want to register as an adult member BUT you are not registering a girl, click here)
Options that are available in your immediate zip code for your girl's grade will be displayed. To find the best option for you and your family, you may need to expand the zip code radius, or enter your girl's school zip code instead.
Be sure to check the number of Volunteers Needed to help form troops. In some areas troops are still forming and will need caregivers to step up as troop volunteers.
You will also have the option to register your girl as an Individually Registered Member. Some girls prefer to work on their own with an adult family member so they can choose activities they love that fit into their schedules.
Complete the process by purchasing a Girl Scouts of the USA membership for your girl.
If you have any questions, aren't sure what you're looking for, or need help, please call us at 888-922-4763!
Girl Scouts is a great value!
Membership starts at just $40 with additional program fees for the activities your girl attends. Please note that purchasing a Girl Scout membership does not guarantee placement in a troop. Your Girl Scout membership is non-refundable.
Need to know more?
Need to know more so you can decide what's right for you? Check out all the different ways to take the lead at Girl Scouts. Or, see all the exciting possibilities Girl Scouts offers for girls of all ages and choose your adventure.